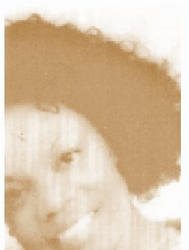 Welcome
Dee Cooper-Durden, debut with her single, The Lord is My Shepherd, around two years ago with a new sound she calls "smooth gospel". Her lyrics were directly inspired by King David's Psalms 23. What a great sounding song it turned out to be! At the end of the song, her brother, Rev. Noble L. Cooper, recites Psalm 23.
PSALMS TWENTY THREE
1: The LORD is my shepherd; I shall not want.
2: He maketh me to lie down in green pastures: he leadeth me beside the still waters.
3: He restoreth my soul: he leadeth me in the paths of righteousness for his name's sake.
4: Yea, though I walk through the valley of the shadow of death, I will fear no evil: for thou art with me; thy rod and thy staff they comfort me.
5: Thou preparest a table before me in the presence of mine enemies: thou anointest my head with oil; my cup runneth over.
6: Surely goodness and mercy shall follow me all the days of my life: and I will dwell in the house of the LORD for ever.

THE MUSIC BEHIND THE SONG

The music for the song, The Lord is my Shepherd, was written and produced by the famous Braxton Brothers. At the top of their game, these brothers, Wayne and Nelson Braxton, answered an email in reply to Dee, the writer of the song, okaying the use of their spellbounding musical composition, Saying Goodbye. Dee had been listening to the music that her husband, Anthony Durden, had purchased along with many other musical compositions and words began to come to mind with such a disturbance that she could not just blow it off.

This creative inspiration came with such awe and astonishment that Dee responded with a call for quest to record the single after writing the lyrics for the entire music composition note for note. Before long, the lawyers were involved and Dee was honored to obtain an Arranger Agreement from BMG Music Publishing, the largest music publisher in the world.


The lawyers of BMG Publishing were amazed as they stated, "We are having to do everything backwards for this contract. Normally, we hire songwriters, then we add the music. But this case, the writer creates the lyrics after the music has been composed. They congratulated Dee for her unique abilities.
The Songs on the CD

The Lord is my Shepherd, Dee Cooper Durden
It's the Jubilee, Dee Cooper Durden
I'll be thru, Dee Cooper Durden
I'll be thru praise
Get over it, Dee Cooper Durden
One Day He Shall Come, Jackie Bennett
Touch Him back, Jackie Bennett
Guitar Jamboree, Noble, Terry, Leonard, Jesse, David
He'll love you anyway, Dee Cooper Durden
He's God alone, Dee Cooper Durden
Even now Lord, Dee Cooper Durden

Live Recording Night
July 10 was a golden night. Although with much adversity, Dee's Live Recording at the Evangelist Temple church in Houston, Texas where the pastor is Bishop Rufus Kyles, was an anointed success. What a night!
Five elders of the Cooper Family played their guitars for a glorious Guitar Jamboree in honor of a half a century music ministry of Rev. Noble Cooper Sr, founder of the Cooper Ministries. The Jones Group, dressed in white, sung songs they had written themselves as they joined in on the celebration of this 50+ years ministry. The ending song was 'I just wanna be right" by Little Nick. How this child sung! The church went up! Oh the praise!
In a special dedication, Rev. Leonard Simpson played his lead guitar like his Uncle Noble, the honoree and he was able to depict the sounds on the guitar so much like his uncle from the guitar picking to the complicated playing of songs that his uncle used to sing, for example, "This Train is a Clean Train" and tears with smiles were seen on audience faces.
Miss Jackie Bennett, singer, songwriter and musician, recorded two of her songs. Jackie's mother is also a first cousin to the Coopers. All of these youth and many, many others, relatives, acquaintance and friends would find themselves always present at Supt. & Mrs. Noble Cooper's churches and house.
Even Pastor Terry L. Cooper, played his acoustic guitar for the first time for this recording. Rev. Terry Cooper is best known for playing a mean Bass at the Little York COGIC in Houston where his father-in-law is the pastor and he has been in the studios many times for different choirs! He and his wife, Barbara Edwards-Cooper, have taken the charge for Supt. Noble L. Cooper and wife at the Galilee Church of God in Christ.
Rev. Noble Cooper of San Antonio, David Dixon of Arkansas were a dynamic duo as they backed each other up on leads playing my favorite childhood song, Give me that Old Time Religion. They ended on a shouting praise note and people are still talking about it.
"I Want Complain's" Rev. Paul Jones brother, Jesse J. Jones, Jr was there playing the lead guitar for Dee's song, He's God Alone. His mother is the first cousin to the Coopers. And so much more!